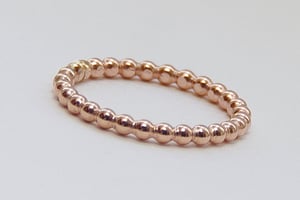 $

68.00
2mm (about 1/6 of an inch / 0.07") BOLD Stackable Rose (Pink) Gold Filled Beaded Ring- Handmade Gold Fill Dotted Stack Ring- Stacker Ring- Thumb Finger Ring- Eternity Band
This is a listing for ONE BOLD rose gold filled beaded stacking ring hand forged by me from 12ga (2mm/about 1/6 of an inch / 0.07") beaded / dotted wire. A great alternative for a wedding, an engagement band, or a just thumb ring.
✦✦✦✦✦✦✦✦✦✦✦✦✦✦✦✦✦✦✦✦
14k gold filled jewelry will NOT tarnish or fade. My items are NOT plated!
14k Gold Fill is not like gold plated, as there is approx 100 times more gold in gold fill, than there is on plated wire. The gold layer is usually 50 to 100 times thicker as compared to what is on a gold plated item. Gold filled looks and usually wears as well as karat gold. Often referred to as rolled gold, Gold Fill is very hard wearing and should last under normal wear conditions it should last a lifetime.
http://en.wikipedia.org/wiki/Gold-filled_jewelry
✦✦✦✦✦✦✦✦✦✦✦✦✦✦✦✦✦✦✦✦✦
PLEASE EMAIL ME WITH YOUR SIZE!
Contact me if you would like more rings, I will create a custom listing for you.
All my jewelry is handcrafted by me in my home studio, and it is new, unworn. I work only with top quality materials (sterling silver and gemstones that I purchase from long established companies). I will ship my items properly sanitized and securely packaged.