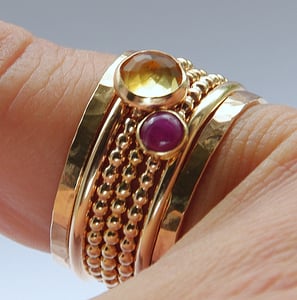 $

260.00
A dotted, smooth, hand hammered set of 7 x 14k YELLOW GOLD FILLED stacking rings that includes bezel set, faceted Citrine & smooth Ruby stones. A lovely Mother's Day gift!
All YELLOW GOLD FILLED hammered / smooth bands in this set are 2mm thick each. The beaded / dotted bands are 1.5mm thick at the widest point.
CITRINE: - a lovely and vibrant faceted gold citrine, a 6mm rose cut round. Very clean material and super-sparkly. November birthstone ring.
Size: 6mm
Shape: Round
Cut: Rose Cut Cabochon
Approx carats per stone: 0.9
Country of Origin: Brazil
Treatment: Heated
Clarity: Almost loupe clean (VVS)
Ruby: - A lovely 4 mm smooth red ruby cabochon with an organic appearance. July birthstone ring.
✦✦✦✦✦✦✦✦✦✦✦✦✦✦✦✦✦✦✦✦
14k gold filled jewelry will NOT tarnish or fade. My items are NOT plated!
14k Gold Fill is not like gold plated, as there is approx 100 times more gold in gold fill, than there is on plated wire. The gold layer is usually 50 to 100 times thicker as compared to what is on a gold plated item. Gold filled looks and usually wears as well as karat gold. Often referred to as rolled gold, Gold Fill is very hard wearing and should last under normal wear conditions it should last a lifetime.
http://en.wikipedia.org/wiki/Gold-filled_jewelry
✦✦✦✦✦✦✦✦✦✦✦✦✦✦✦✦✦✦✦✦✦
I ca make this ring in half and quarter sizes as well.
Sizes: 3, 3¼, 3½, 3¾, 4, 4¼, 4½, 4¾, 5, 5¼, 5½, 5¾, 6, 6¼, 6½, 6¾, 7, 7¼, 7½, 7¾, 8, 8¼, 8½, 8¾, 9, 9¼, 9½, 9¾, 10, 10¼, 10½, 10¾, 11, 11¼, 11½, 11¾, 12
Australia, UK, Ireland sizes: D to Z4.
DUTCH & EU RESIDENTS, PLS NOTE THAT A 19% TAX WILL BE ADDED BY PAYPAL, AT THE CHECKOUT.
Other available stones, please inquire:
January - Garnet
February - Amethyst
March - Sky Blue Topaz
April - White Topaz
May - Green onyx
June - Sky Blue Topaz
July - Ruby
August - Peridot
September - London Blue Topaz
October - Rainbow Moonstone
November - Citrine
December - Swiss Blue Topaz
If you want a set of rings in a mix other than what's on offer, just drop me a line, and I'll provide you with a quote!
PLEASE EMAIL ME WITH YOUR SIZE!
If you need help figuring out your ring size please visit http://www.bluenile.com/pdf/bluenile_ringsizer_copyright2008.pdf
All my jewelry is handcrafted by me in my home studio, in The Netherlands and it is new, unworn. I work only with top quality materials (sterling silver and gemstones that I purchase from long established companies).
My Warranty:
All of my work is built to last at least a lifetime. If you have any problem with something purchased from me, as long as the damage is not due to intentional abuse, my warranty coves the repairs. Just contact me and be ready to pay the low shipping both ways - I cover the rest. It's as simple as that.
I will ship my items properly sanitized and securely packaged. I ship via PRIORITY MAIL. My jewelry should arrive to you within 5 to 10 business days from the day of shipment. I want you to be 100% happy with your purchase, so I accept returns within 2 weeks and you will be refunded.
Of course, I appreciate your positive feedback:)